With the economy the way it is, people are now looking for creative ways to cut costs and use their resources wisely. Why not invest in a multi-purpose sex toy. A toy that offers both function and fun!  These multipurpose sex toys are sure to give you more "bang" for your buck.
1. Decorative Dildos
Bibelot Sexual
Looking for a creative way to display your sex toys? In 2008, designer Matteo Cibic's released his "Bibelot Sexual" series which successfully transforms household objects into high-spirited objects of pleasure.
This aquarium is a Pyrex bowl that is displayed on a dildo base. The flexible medical grade silicone dildo comes complete with 10 speeds and various vibration programs.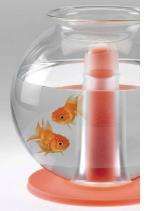 This beside lamp discreetly hides a dildo. The lamp is finished with platinum and comes with a medical grade dildo that comes in a variety of colors. The lamp's light also color changes depending on whether the object is in use or not.
Sexy Tablewear
Leave it to outside-the-box thinking. Last year French designer, Philippe Di Méo designed tableware inspired by sex toys. The collection of erotic tableware called, Souper Fin (which is a play on words of "fine dining" and "super fine"), was designed in collaboration with renowned luxury french companies Baccarat, Goyard, Cristofle and Orfèvrerie d'Anjou.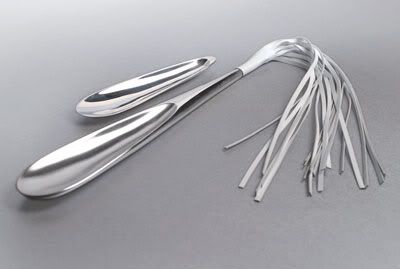 2. Hair and Make-Up Vibes
Make-Up Brush Vibrator
Looking for a vibrator that will make you blush? The Vibrating Make-Up Brush doubles as a functional make-up brush and a mini bullet vibrator. This vibrator is small enough to carry in a make-up bag and looks like any other make-up brush. With its quiet adjustable vibrations, this make up brush is great to use whenever you need to go "power your nose".
Hairbrush Vibrator
Massage your scalp or any other part of your body that needs a little stress relief! This massager doubles as a hairbrush and personal massager. The vibrator is discreetly designed in the handle of this brush.  Not only is the hairbrush vibrator waterproof, but it features adjustable speeds.
3. Edible Delights
Clone-A-Willy Chocolate Kit
The Clone a Willy Chocolate Penis Kit enables you to create an edible dildo from the comfort of your own home. The kit is designed by a doctor to ensure that the mold creates a detailed exact replica of any penis. This kit comes with detailed instructions and your edible chocolate penis is ready in 24 hours. This is a great gift if you are looking for something with a real personal touch.
The Clone-A-Pussy Chocolate Kit is also available. The Clone-A-Pussy kit was designed to allow any woman to make a completely accurate gourmet chocolate copy the outer portion of her vagina.
4. "Turn On" The Lights
Sylvia
Desinged by California furniture company SundayLand, Sylvia is a four tiered two-foot chandelier. This chandelier is made with over 70 chrome dildos!
The Penis Pump Chandelier
This chandelier is made from the rubbery insides dozens of a Japanese penis pump, called Tenga. It was on display in 2006 at the Peace Needs a New Logo event during Tokyo Design Week. The chandelier is noted to be a symbol of people coming together.
5. Good Clean Fun
Vibrating Body Scrunchie
This Vibrating Body Scrunchie may look like an ordinary bath sponge but it is actually a multifuction shower massager. Its vibrations come from a mini vibrating bullet nestled inside the sponge. If you want a more intimate massage, the bullet vibrator is easily removable. The shower sponge is great for exfoliating your skin while the multi-speed bullet is great for nipple and clitoris stimulation.